10. June – 01. October 2023 | Dresden
For the 14th time the OSTRALE Center for Contemporary Art organizes its international exhibition of contemporary arts in Dresden, in 2023 from June 10 to October 1, at the unique Robotron Kantine building in the heart of Dresden – an architectural-historical testimony of the Eastern Modernism.

In a review of the 15 previous years since the founding of OSTRALE in 2007, with more than 22 exhibitions in Dresden and abroad, the artworks selected from the applications for Open Call O23 will be complemented by new works by previous OSTRALE participants. In both cases, the selection will be carried out by the directors of the OSTRALE, curators Andrea Hilger and Antka Hofmann, together with art historian Lisa Uhlig. I will be represented in the exhibition with my work "Fountain".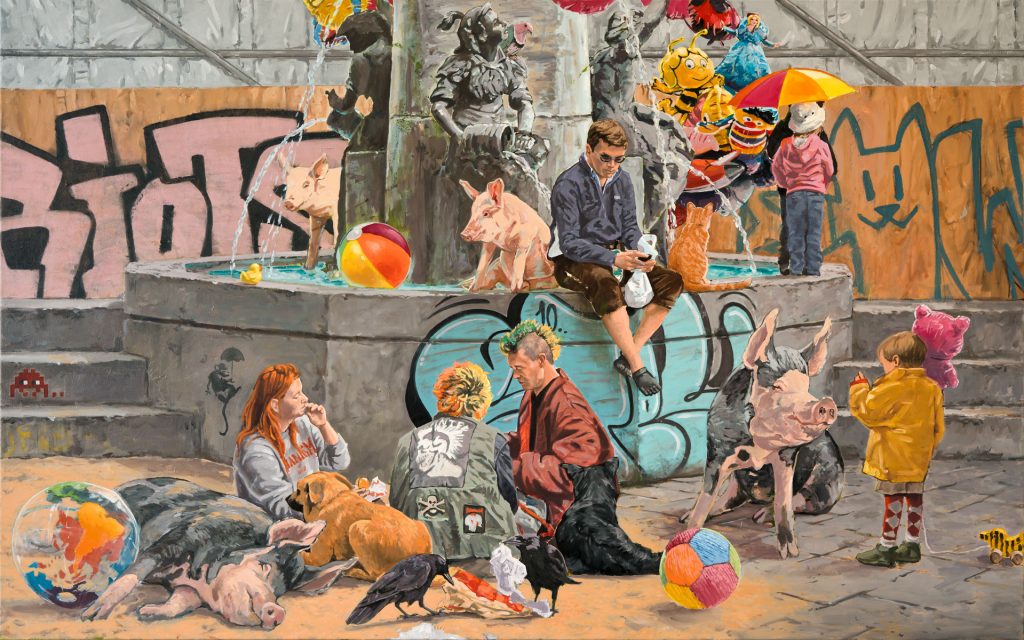 The curators about the exhibition:
"Never before has our society been as divided as it is today, while the need for community and solidarity is greater than ever as well. We are faced with acute and daunting questions, problems and challenges, such as global social inequality, protecting our planet, an ongoing pandemic and the resistance against aggressors. Trying to obtain objective and reliable information on these issues sometimes feels like the fight of David against Goliath. Media competence is an increasingly important tool of our time. Critical distance is indispensable in order to be able to unmask hatemongering, propaganda and misinformation and stand up against them.
But what happens to us as humans, our physical and mental health in these overwhelming times, where we often feel helpless? Our social capital – trust, cohesion, mutual support and the ability to compromise – seems to have taken a hit. In this sense, we should all be social capitalists and propagate growth.
Perhaps there is also an opportunity hidden in the tensions, because when structures are exposed, their building blocks become visible piece by piece. Remember the concept of the primordial hut – four tree trunks and a few branches for the roof. This archaic image remains a symbol for the return to the core of things. It asks for principles.
Human beings always move in a sphere between reality and illusion – as does art. What perceptions are reflected in the creative unrest of today's contemporary art? What possibilities for a future-proof community are being discussed? Do the building blocks we may discover show us what divides or what unites us? Artworks as individual traces expand the spectrum of knowledge we gain through experience. They can help us understand better. Creativity as a resource grows with intensive use instead of dwindling – which can only be an added value."
The OSTRALE Biennale O23 presents 82 artists and 6 artist groups from 28 countries: Austria, Azerbaijan, Belgium, Bosnia and Herzegovina, China, Croatia, Georgia, Germany, Hungary, Iran, Israel, Italy, Japan, Malta, Mexico, Mongolia, Montenegro, Netherlands, Poland, Portugal, Russia, Serbia, Slovakia, Turkey, Switzerland, Ukraine and USA.
Artists
Stephanie Abben (DE) // Nils Agdler (SE) // Inna Artemova (RU) // Seçkin AYDIN (TR) // Stefan Bircheneder (DE) // Recycle Group (Andrey Blokhin & Georgy Kuznetsov) (RU) // Carsten Busse (DE) // Elvio Chiricozzi (IT) // András Cséfalvay (SK) // Márta Czene (HU) // Ivana de Vivanco (PT) // Yoel Diaz Galvez (MX) // Ryan Falzon (MT) // Borjass group (IR) // Shige Fujishiro (JP) // Karen Gäbler (DE) // Annika Greschke (DE) // Urban Grünfelder (IT) // Martin Gut (CH) // László Győrffy (HU) // Michael Heindl (AT) // Bernd Hennig (DE) // Sebastian Hertrich (DE) // Elisa Hoheisel (DE) // Christian Holtmann (DE) // Jürgen Höritzsch (DE) // Hu Jiamin (CN) // Juliane Hundertmark (DE) // Kathrin Hunze (DE) // Jeffrey Isaac (USA) // Michael Johansson (SE) // Milena Jovićević (ME) // Konstantine Kakabadze (GE) // Kavachi (TR) // Alica Khaet (RU) // Hartmut Kiewert (DE) // jeroen robert kramer (NL) // Volker Kreidler (DE) // Christian Krieter (DE) // Ron Kuhwede (DE) // Robert Kunec (SK) // Alex Lebus (DE) // ASYNCHROME (Marleen Leitner & Michael Schitnig) (AT) // Siniša Lordan (HR) // Casey McKee (USA) // AuditivVokal Dresden (CH) // Nora Mesaros (RS) // Ivan Milenkovic (RS) // Kasper Lecnim (PL) // Judit Lilla Molnár (HU) // Petra Mrša (HR) // Franziska Neubert (DE) // Thomas Neumaier (DE) // Klára Orosz (HU) // Jesse Fisher & Allyson Packer (USA) // Frances Palgrave (DE) // Mila Panić (BA) // Tanja Pohl (DE) // Renata Poljak (HR) // Stephan Popella (DE) // Sandro Porcu (IT) // Peter Puype (BE) // Farid Rasulov (AZ) – -, — (DE) // Suleika Riemann (DE) // Thomas Riess (AT) // Christian Roosen (BE) // Marcin Ryczek (PL) // Kai Savelsberg (DE) // René Schoemakers (DE) // Brele Scholz (DE) M. SCHRECKENBERGER (DE) // Constantin Schroeder (DE) // Tanja Schwarz (CH) // Alexandra Slava (UA) // Goran Škofić (HR) // Klaus Staeck (DE) Olaf Stoy (DE) // Matteo Suffritti (IT) // Alisi Telengut (MN) // Laura Theurich (DE) // Philipp Valenta (DE) // Ad van Aart (NL) // Romain Van Wissen (BE) // Michael Wesely (DE) // Dana Widawski (DE) // Nevet Yitzhak (IL) // Michael Heindl & Franz Lun (AT)
Venue
Robotron Canteen
Zinzendorfstraße 5 / corner Lingnerallee
01069 Dresden
Exhibition Duration
10 June – 1 October 2023
Opening hours
Wednesday – Sunday: 11 am – 7 pm
Admission prices
see: https://ostrale.de/en/Ticket%20prices.html