The exhibition is extended until 23 August!
From 07 June to 16 August 2020 I will exhibit together with the sculptor Dana Meyer in the Städtische Galerie Ehingen.
Cows and pigs take over the urban space, giant insects bear witness to previously undiscovered islands, oversized foxes turn the hunter into the hunted and farm animals become companions and accomplices.The paintings of Harmut Kiewert and the steel sculptures of Dana Meyer take up the chimerical aspect of man and animal and give the relationship between man and animal a new space. Animal transitions and animal upheavals interlock to form an Animal Transition.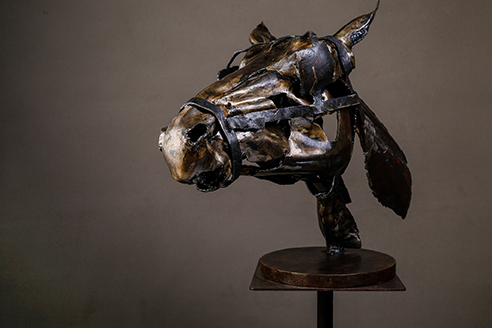 Dana Meyer, "Scheuklappen", 2018, forged steel, welded, 62 x 33 x 75 cm
Hartmut Kiewert (born 1980) gives back their personality, dignity and joy of existence in his sensitive, lively paintings of so-called "farm animals" by taking them out of their torturous existence as living milk and meat machines and showing them as companions at eye level in our everyday world.
Dana Meyer (born 1982) places humans and animals in a close relationship. The forged and welded steel sculptures impress with their expressive character and a tremendous presence that makes them vibrate with inner strength. Dana Meyer thus elicits the finest emotions and familiar lifelines from the hard steel.
The two Leipzig artists embody in an outstanding way what has made the art from this city internationally famous: Expressive realism and hand-finished mastery combined with fresh ideas and an unusual view of our world.
Duration
07 June – 16 August 2020
Space
Städtische Galerie Ehingen
Tränkberg 9
89584 Ehingen
Opening Hours
Wednesday, Saturday and Sunday: 2 – 5 pm