The gallery will be open again from 28.04.
Please note the temporarily reduced opening hours:
Tuesday to Friday 12 – 18 h, Saturday 11-14 h
NOTE: By clicking on the play-button a connection to the YouTube-server / Google will be established.
Our relationship to animals is deeply ambivalent. While we grant the status of family members to some, we close our eyes to the suffering of others to whom we have assigned the role of food and clothing suppliers. Hartmut Kiewert abolishes this arbitrary division into pets and farm animals in his paintings and creates the utopia of a new human-animal relationship in painterly magnificent scenarios. Cows, pigs or chickens appear quite naturally in our everyday world, populating streets and shopping malls or taking a seat on our sofas. People and animals picnic together and relax in surrealistic landscapes, while the ruins of meat factories, fattening facilities and slaughterhouses are slowly crumble in the background. The artist also regularly portrays individual animal personalities at farmed animal sanctuaries. Some of them are then to be found in his large-scale scenarios. In his pictures, Hartmut Kiewert calls on the viewer to take a different perspective and to understand animals for what they are – social, sentient individuals like us.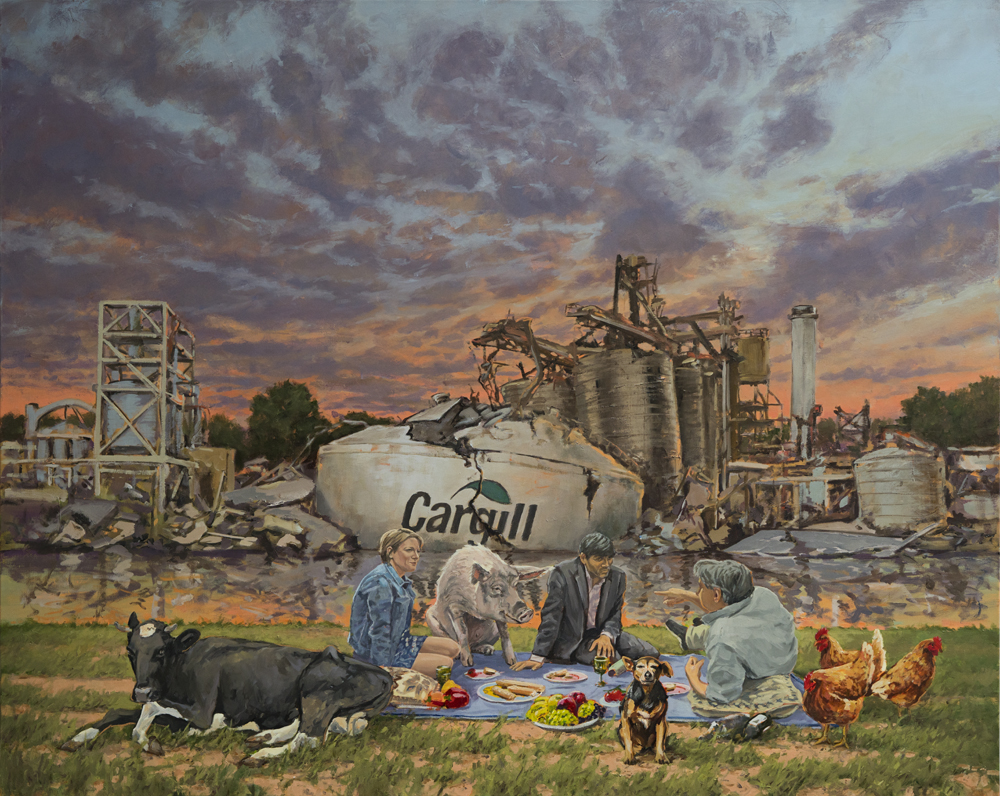 Hartmut Kiewert, »Picknick III«, 2019, oil on canvas, 120 x 150 cm
Opening:
20 March 2020
Duration:
20 March – open end
Space:
Galerie KK Klaus Kiefer
Rüttenscheider Str. 56
D-45130 Essen
Opening hours:
Tue – Fri: 12 am – 6 pm
Sat: 11 am – 2 pm
Monday: closed