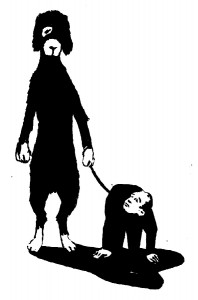 The moment of total access to the body through violence is the moment of practising absolute power/dominion. On the one hand the eating of meat is a symbol of dominion and a metaphor for this total grasp, on the other a life is de facto extinguished. That means power/dominion is used in its most extreme form – to assimilate parts of the animal's body.
The radical separation between humans and animals, which has been deeply inscribed in the human culture for thousands of years, bears a violence that has never been of such astronomical dimension as it is today.
Hartmut Kiewert´s paintings are an attempt to subvert the blockades of consciousness against the exploitation of animals. The absence and repression of both the miserable life and the dying of animals is countered with the presence of painture, the prensence of flesh-colours and utopian perspectives on a cruelty-free world.